CRYSTALS
Imani's Creations CRYSTALS & Semi-precious GEMSTONES
Imani's Creations features hundreds of genuine semi-precious gemstones & crystals in a variety of forms to choose from! These natural treasures from Mother Earth's sacred womb, are perfect to add to any child's Rock collection or to any adult's favorite Gem selection!
Gemstones are use greatly in technology, For example Quartz crystals are used in "Quartz" watches, computers, radios and digital appliances, etc. Rubies are used for precision in some lasers, diamonds are used as a blade in surgical scapels, and on the Pioneer Venus probe as a window for a infrared radiometer in space,etc.
Since ancient times crystals have also been useful in Meditation, Prayer, and to enhance positive energy in the environment, and in healing work, etc
SOME CRYSTAL WORKSHOPS & EVENT SHOWCASES ARE LISTED BELOW!
FOR MORE EVENTS & UPDATES VISIT our "NEWS & EVENTS" page!
. <MORE PHOTOS & INFO WILL BE ADDED LATER>
Amethyst Geode & Clusters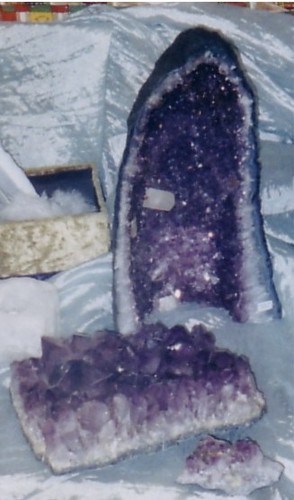 Tumbled Stones
Relax and clear your mind.
Shown are Amethyst, Aventurine, Blue Lace Agate, Carnelian , Clear Quartz, Jasper, Lapis Lazuli, Malachite, Onyx, Pyrite, Snowflake Obsidian, Tiger's Eye, Turquoise
<a full list of the stones we carry will be posted soon>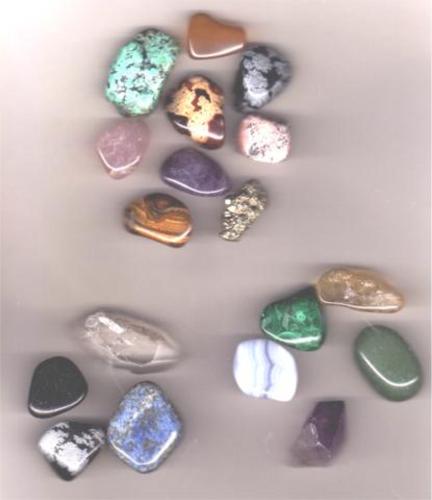 AMETHYST: Aids Tranquility, Transformation, Study, Spiritual Awareness, Meditation & Prayer.
Geodes & Cathedrals are comprised of a myriad individual points that form a cluster of crystals unified under one dome. These natural formations can enhance the environment of your Home, Office, Recreation Center, Church, Spiritual &/or Healing Center, Art Gallery, School, Center &/or Study Hall, etc. where it can amplify the harmonious attributes of ones higher self and inspire a positive mental attitude of those within a group (family, social &/or spiritual) environment!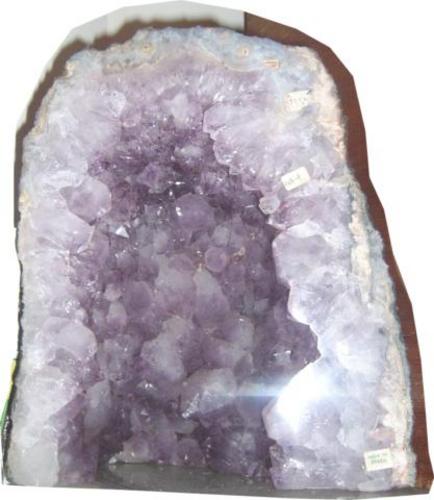 Quartz Crystal Points: Multi purpose! Aids Focus, Clarity, attaining Goals & Visions. Purification & Clears Negative Energy.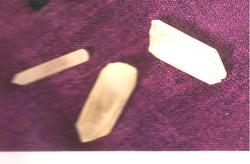 Nov 5 & 6 Come Join us for a Crystal "HEALING in HARLEM" part 2 Event!

This PURPLE & PINK promotion continues Nov 5 & 6, 2016 at Imani's Creations "CRYSTAL HEALING in HARLEM " part 2 Event featuring a Special "HANDS on HEALING" Live Demos & Exhibit! Admission FREE with RSVP by Fri, Nov 4, 2016 or $10- at Door! RSVP at https://www.facebook.com/events/209882846111596/
at NAMA 107 W.130th st (betwn Malcolm X & ACP Blvd).
LISTEN in to Imani speaking on CRYSTALS on the REJUVENATION STATION! with Ayo Bankole!
Tap into the energy of Mother/Father earth's precious gems for your inner and outer well-being!
Wed, Mar 23 at 7:30pm.www.boldradiostation.com
Be sure to HAVE your GEMSTONES to SUPPORT YOUR CLIMB up the MOUNTAIN through the trials & cold of WINTER!
Here's some Crystals/Gemstones to ENHANCE your Autumn (FALL) Season experience!
Yes, for your convience we have all of these Gems IN STOCK!

AUTUMN CRYSTAL WORKSHOP/BAZAAR
JOIN us Sat OCT 24 &/or Sun OCT 25 at our ANNUAL Crystal "HEALING in HARLEM" Fall WORKSHOP/Exhibit event! In observance of National Domestic Violence Prevention & Breast Cancer Awareness Imani's Creations will have some info on these topics & ALSO a SALE on ALL PURPLE & PINK CRYSTALS/ GEMSTONES & JEWELRY! ALL are WELCOME to WEAR PURPLE or PINK Colors to MAGNIFY the HEALING ENERGY during these events.
ADVANCE DISCOUNT TICKETS will be AVAILABLE 10/17-18 at CIRCLE of SISTERS Expo
or CLICK to BUY NOW or CONTACT us for other options!
Sat, Nov 7 during the Healing & Holistic Academy event, Imani's Creations & Entertainment will give a mini- presentation on:
Gifts from the Earth: Crystal Basics & have a product display of Crystals, Gemstone & Jewelry plus a variety of Holistic Healing Products for your shopping pleasure! ADV. TICKETS & info:
https://www.eventbrite.com/e/healing-wellness-academy-a-day-of-natural-living-tickets-19068560578 or email bronxholistichealing@gmail.com
Join us for Alchemical Healing on the WOTA (Way of The Alchemist) FREE call every Tuesday 8:00pm Dial in at 605-562-3140 code 211783 — with Diana Pharr. Also during this SRPING Diana will host a special call April 5th (Easter Sunday) morning 10am/est on 605-562-3140 code 211783.
WINTER SOLSTICE
Gemstones that are especially beneficial during the WINTER SEASON are..
Golden Calcite (for super energy)

Unakite (for joy in daily life)

Goldstone (pure sparkling vitality!)
Lepidolite (Violet ray burns away greyness)

Hemimorphite (increases energy to complete projects)
You can also use these Crystals to help be attuned to the best qualities of this time of year in your own lives as well as give as Gifts to others as well!
BIRTHDAY PARTY & CAPRICORN TRIBUTE! Sat, Jan 17, 2015
Numerologist Lloyd Strayhorn says CAPRICORNS will especially enjoy 2015! These GEMSTONES & CRYSTALS may aid EVERYONE in areas related to generating positive finances, health, protection & stability! Gemstones for ALL the Zodiac Signs will be on SALE & some offered as GIFTS & PRIZES ,on Sat, Jan 17 during Imani's B'day Bash & CAPRICORN Tribute!
MORE INFO CLICK on LINK(s) Below:
INFO & TICKETS: https://squareup.com/market/imaniscreations/imani-s-b-day-party-capricorn-tribute or
Info & JOIN event FACEBOOK: https://www.facebook.com/events/859299017444484/
Fri, DEC 19
6pm- midnight &
Sat, DEC 20
Noon-6pm GLOBAL FAST TELECONFERENCE!
Imani will speak Fri 12/19 at 9:15pm-9:30pm
during this FREE 24 Hour WELLNESS MARATHON CALL,
and share
Crystal Healing info to aid in ELEVATING our Personal & Global Vibrations through the WINTER into the NEW YEAR 2015 & BEYOND!
READ MORE...
Oct 30, Nov 1 & 2 I.C PURPLE & PINK SALE in Support of DOMESTIC VIOLENCE prevention & BREAST Cancer Awareness & other issues READ MORE...
I C PURPLE & PINK SALE! DETAILS:
Get a SPECIAL AMETHYST , ROSE or CLEAR QUARTZ Crystal GIFT with Purchases over $5- (while Supplies Lasts)

GET 10-50% DISCOUNTS on PURPLE &/or PINK Gemstone Jewelry, Crystals, Pyramids by Imani's Creations for THREE days! (Thurs 10/30, Sat 11/1 & Sun 11/2)

SALE includes:
(PURPLE Gemstones) like AMETHYST, Lepidolite, Fluorite, Purple Agate & MORE!
The color PURPLE vibrations may help deepen our connection with our Creator, Guardian Angels, Spirit Guides Aids & Can bring tranquility as it Amplifies Spiritual Awareness, Attunement, Meditation & Prayer & More!

(PINK Gemstones ) like Rose Quartz, Rhodonite, Rhodochrosite, Pink Calcite & MORE! The color PINK is associated with Calmness, Nurturing, forgiveness, which may assist with stress reduction and healing of the Heart, the balancing of emotions & MORE!
Please Note: We reserve the right to modify &/or end this promotion without prior notice & cannot combined with other offers.
Nov 1 & 2 I.C "HANDS ON HEALING" EVENT & SHOWCASE! The I.C "PURPLE & PINK" SALE Continues! READ MORE...
To RSVP : CLICK HERE!

call 800-805-4614 or 646-201-9644
AUTUMN 2014 CRYSTAL BAZAAR & WORKSHOP!
Imani's Creations & Entertainment, Inc presents our ANNUAL
"CRYSTAL HEALING in HARLEM" Event!
SUN, OCT 26, 2014
FALL CRYSTAL/Gemstone SHOWCASE & BAZAAR-FREE!
Bazaar opens 2:30pm- 4:30 & re-opens 6pm after workshop!
Intro to Crystal Healing Workshop:
"JEWELS & TOOLS for an AWESOME AUTUMN!"
(4:30pm-6:00pm)
-"EARLYBIRD" promo
$20-
until 10/25
(pre-registration includes a
FREE
Gemstone GIFT!)
$25- on day of EVENT
10/26!
Workshop is limited
to
20 people so RESERVE your spot today!
For Updates & TO BUY discount ADVANCE TICKETS CLICK HERE!
Learn HOW:
Crystals & Gemstones are formed & some Healing Benefits offer us!

To use Gemstone JEWELS & CRYSTAL TOOLS for an AWESOME Autumn/ Fall Season!

Cleansing , Charging &/or Programming Crystals can maximize your desired results

Basic Practical & Creative Crystal Applications in Personal Use, at home, at Work & your surrounding can be rewarding

Crystals correspond with the Zodiac- Highlighting October Birthstones – Libra & Scorpio

Crystal

Energy aids Balance & Alignment of our Chakras (Shekem Shen

Ra, Aritu)

Crystals can Enhance & Amplify your Prayers, Meditation, Affirmations & MORE! NOTE:

ONLINE ADV. TICKETS FOR THIS WORKSHOP ONLY AVAILABLE until FRI, OCT 24 @ MIDNIGHT!
FOR MORE UPDATES, NEWS & EVENTS CLICK HERE!
SPRING PROMOTION 2014!
When SPEND $20- or MORE on...
Imani's Crystals

& GEMSTONES &/or
II.C

Gemstone Jewelry for

MARCH B'days P

ISCES & ARIES

for Women, Men & Children!

_______________________
BUY 1, Get 50% OFF 2nd Gemstone!
DISCOUNT OFF the lesser price crysta from Imani's Creations selected MIX of...
like

Moss Agate

- for Growth, Fertility & RICHES!
-
Cleansing & Purification!
Carnelian-
Energy & Vitality
& MORE!
* This offer ends March 30th, 2014 while supplies lasts..
Not to be combined with other offers. We do reserve the right to end this promotion at anytime without prior notice.
Call 347-427-8668 or Email:
shaimesh@aol.com
Sat, Mar 29,
2014
3:00pm -7:00pm
Join us as Imani does a mini
CRYSTAL HEALING Presentation

&

VENDS

at
Select Imani's healing handmade Pyramids & Spring Gemstones/Crystals for your

Health & Wealth, plus Jewelry (sa) that gives inner revitalization & outer Beautification from Head to Toes as you indulge & rejuvenate!
$10- (Workshops & Refreshments)
$15- (per Health Therapy)
at Onipa Abusia, Inc

171-32 Liberty Ave
More Info: 347-454-9026
CRYSTAL HEALING WORKSHOP