Celebrate KWANZAA Year Round!
KWANZAA a tradition CELEBRATING & HONORING African Heritage, Family, Community & Culture with the 1st Fruits of Harvest! We REAP what we SOW! So let's PRACTICE the NGUZO SABA (7 Principles) YEAR ROUND!
Nguzu Saba- 7 Principles of Kwanzaa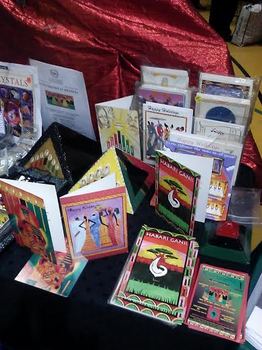 Imani's Creations & Entertainment, Inc. provides array of products and services for the Celebration and Observance of KWANZAA Year Round.
For Imani, during the December 26-to- Jan, 1 time of each year is especially significant because of many reasons. Her name signifies the universal priciple of FAITH that celebrated in many traditions, however, she is committed to exposing, demonstating and enhancing Kwanzaa Celebrations in sharing her voice and gifts at events during these special Seven Days and at times on "Imani" day (Jan 1st) will host a celebration of her own for the Community of Harlem, New York.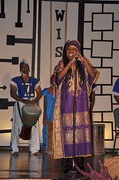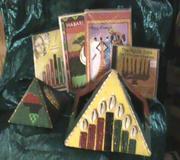 PRE- KWANZAA EVENTS!
Dec 8, 2016- at HOSTOS COLLEGE, feat. FORCES of NATURE DANCE Company!
DEC 11, 2016-Spealers Dr. UMAR JOHNSON & Dr. PATRICIA NEWTON at JAMAICA PERFORMING ARTS CENTER!
Sat, Dec 17, 2016 COME VISIT Imani's Creations Vendor Table at Rev. Nafisa's Annual Celebration of ALL Holidays of LIGHT!
ore Event Info: https://www.facebook.com/events/129922130823298/
CELEBRATIONS DURING Kwanzaa 50th Anniversary WEEK!!!
Tues, DEC 27, 2016- Come Visit Imani's Creations Vendor Booth at KWANZAA at NAMA- Keynote. Dr. Leonard Jeffries
JOIN EVENT at : www.facebook.com/events/1293640124033532
Wed, Dec 28- Come Visit Imani's Creations Vendor Booth at NATIONAL ACTION NETWORK (NAM) with the FOUNDER OF KWANZAA -Dr. Maulana Karenga!
__________________________________________________________________________________________
Wed, Dec 28- Support the Cicle of Brothers Kwanzaa at the Kennedy Center! (Please Note: Imani's Creations is NOT Vending here this year)
________________________________________________________________________________________________________________
THURS, Dec 29- KWANZAA COLLECTIVE! Come Vist Imani's Creations Vendor Booth at
M.S 35 at 272 MacDonough Street in Brooklyn, NY!
FRI, DEC 30, - Come Visit Imani's Creations Vendor Booth at the MUSEUM of NATURAL HISTORY Feat. RUBEN STUDDARD!
More Info: http://www.amnh.org/learn-teach/adults/celebrate-culture/kwanzaa-2016-songs-for-the-soul
----------------------------------------------------------------------------------------------------------------------------------------------------------------
Sat, DEC 31- 4pm-9pm- SAVE the date! Drs Rosalind & Leonard Jeffries "LEGACY PROJECT"- Celebrates our GREATS
Dr. John Henrik Clarke & Dr Ben Jochannan at the National Black Theatre 2033 5th Ave
more Info: 201-837-1355
Sun, Jan 1, 2017- Come Visit Imani's Creations Vendor Booth at Restoration Plaza
PLEASE CHECK BACK for UPDATES & OTHER KWANZAA EVENTS, ANNOUNCEMENTS!!
&/or Visit our NEWS & EVENTS PAGE for OTHER ACTIVITIES & EVENTS or CLICK HERE for Imani's BIRTHDAY PARTY Info & TICKETS!